Happy Pancake Day for tomorrow beauties! I never really partake in Pancake Day, but I love looking at wonderful recipes for the sweet things online, so I thought for all of you who can enjoy it, you can give these different recipes a go, I'd love to see if you make any of these, so give me a link if you do!
These chocolate pancakes with caramelised banana are deliciously good, adults and kids alike will love these!
Mini pancakes with boozy fruits are a store-cupboard pudding and are perfect for Pancake Day.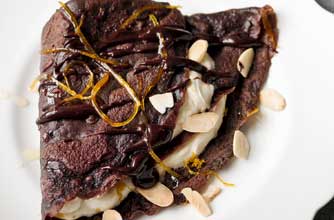 Chocolate Galore! Sweet and scrumptious!
A traditional Polish filling for pancakes with a sweet cream cheese filling.
Dulce De Leche is a beautiful filling for pancakes and a wonderful recipe for Pancake Day!
5 beautiful recipes for the lovely day! Looking through recipes is one of my favourite things to do so looking through all these scrummy ones was a fun way to spend my afternoon! I hope you're all doing some interesting and yummy recipes for Pancake Day and I look forward to seeing all your pictures and some more scrumptious recipes!